The Magic & Adventure of Airplanes
Youth & Adult Public Programs
Public Programs generally take place in the Greater Vancouver area. Classes in other areas of Canada, the USA, or the UK can be conducted by special arrangement. These programs are open to anyone 13 years or olders. Minors will need parental consent. A free Air Time Canada account is required in order to register.
COVID 19 :
During the pandemic, some classes are run on-line and others are run in smaller groups (8 to 10 per class). Flights are still conducted - aircraft are flown only once every 3 days, are thoroughly disinfected, and masks are mandatory for everyone.

Earn the much-sought-after Air Time Canada Co-Pilot's License, then go on 2 free flights with
you
at the controls.
It's a fun, interactive, day in Ground School with activities, games, outdoor exercises, and group work.
If you want to know more about this award-winning program, click the button that Charlie is pointing to ...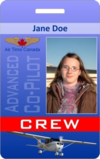 Add the "Navigator Badge" to your Co-Pilot's License, earn your Airside Lanyard, and conduct a
"Destination" Flight. You'll learn advanced radio communications, ground operations and navigation.
Open only to graduates of the "Co-Pilot in a Day" program.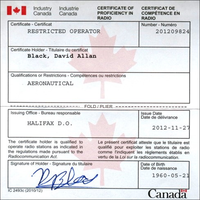 In this half-day program you will learn everything needed for the Industry-Canada
Aviation Radio Operator's certificate. The Official Exam will be administered at
the end of the course. A $10 fee is payable to the examiner.

This certificate (the ROC-A) is the 'license' that makes it legal to transmit on
and aviation radio. You also need this certificate if you want to operate an
advanced drone.

Industry Canada imposes no age-limit to hold this certificate. We know of some
9-year-old kids who were awarded the certificate after passing the exam.
We're a non-profit organization that delivers entertaining aviation-themed programs.
We've graduated over 2000 "Co-Pilots" over the last 20+ years and facilitated more than 1500 free flights.


Flights and Events take place in other locations as well.

Copyright © 2020
Air Time Canada & David Black, All Rights Reserved