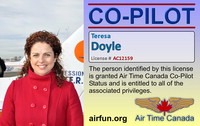 Overview
You'll be inspired, challenged, and entertained while earning the much-sought-after Air Time Canada Co-Pilot's License. There's group-work, games, outdoor exercises, a field trip (optional), and simulations. You'll be up and moving, indoors and out, working in teams, in pairs, and individually, because the best co-pilots in the world are those who are grinning ear to ear.
Our grads agree:
Testimonials
I earn a Co-Pilot's License?
Yes, but it doesn't mean that you can then run out and get a job flying jets for Air Canada. It does mean, however, that you are eligible for a short Free Flight where you can put your co-pilot's license to use flying a plane, talking with air traffic control, and following airport and cockpit procedures.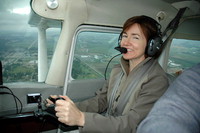 A Free Flight? Tell me more.
We operate a 'registry' that matches Air Time Canada grads with pilots and organizations that can offer the free flight. These flights are typically 15 to 20 minutes and are paid for entirely by the volunteer pilots and non-profit organizations that run them.
The free flights are optional, of course, and are conducted on a first-come, first-served basis from the registry. We cannot guarantee how quickly your name will come up - especially considering how often Vancouver weather results in rescheduling. But if you're patient, and willing to be flexible with your schedule, you will get your chance at the controls.
Here is the link to a video of
Jena
on her 'Co-Pilot' Flight. It's a great example of what you can expect:
Jena's Air Time Canada Co-Pilot Flight
Is it safe?
Aviation Safety is what Air Time Canada is about, and we take it very seriously. We make sure our volunteer pilots are well trained and regularly reviewed. All aircraft are certified and maintained to the highest standards. And flights are operated with full support from Transport Canada Air Traffic Services.
However, if you split a gut from laughing too hard during the class .. well, you take your chances.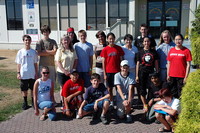 Can anyone participate?
We generally restrict the co-pilot program to those aged 13 or older. We offer different courses, conducted in a school setting, for those as young as 8.
Some Co-Pilot Classes are organized by specific groups and are not open to the general public.
Tell me more about the class.
We cover aviation basics, airport procedures, radio communications, and the low-down on operating some of the aircraft instruments. It's an 7-hour course - held either in a single day (with breaks) or over 2 or 3 sessions. It's a combination of lectures, group activities, games, contests, and out-door simulations.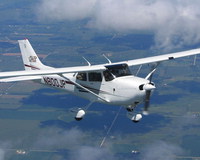 What kind of aircraft do we fly?
It depends on which organization or pilot offers you your free flight. Most operate the ubiquitous Cessna 172 (also known as a Skyhawk).
It is a 4-place high-wing piston-powered aircraft with one of the best safety records of any civil aviation aircraft in the world.
It cruises at almost 200 KPH, at altitudes up to 4000 meters, and has a range (with reserves) of over 800 KM.
How much does it cost?
The course is
free
. That includes the classroom instruction, supplies, your "Co-Pilot Kit", and all taxes.
The flights, of course, are also free.
You will be reponsible for your own transportation costs to/from the class, meals, and any "destination" costs for your flight (ie: lunch at airport).
Note: Fuel, for the airplane, is included in the free flight - our pilots are not permitted to ask you to share in fuel costs.
How do I sign up?
We hold 3 to 5 Co-Pilot classes per year. Each class is generally announced only a few weeks in advance.
If you're interesting in joining a class, put yourself on the
notification wait list
. That way, you will receive an email and registration link as soon as the class is available. The Wait List is completely confidential. You email address will
only
be used for the purposes of contacting you about an upcoming class.
Classes are only open to those who have not previously completed a Co-Pilot Class.
I still have questions.
Contact Janine by email:
janine@airfun.org