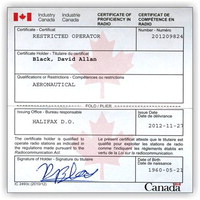 Overview
A
Radio License
issued by
Industry Canada
is what you need to legally operate an aviation radio transceiver.
In this short course you'll learn radio safety, emergency communications, and practice with live aviation radio equipment.
An Industry Canada examiner will then administer the written examination, and you will have earned an aviation radio license (officially called an ROC-A for
Restricted Radio Operator's Certificate - Aeronautics
)
Do I have to be a Pilot?
No. The only eligibility requirement to be issued a ROC-A is to reside in Canada and have the appropriate government issued ID.
There is no minimum age standard for the ROC-A either, so even elementary school students are eligible.
What can I do with my ROC-A?
If you ever want to become a pilot, having an ROC-A is a mandatory step. But even for a non-pilot, the ROC-A is just plane (pun intended) cool to have. And it's yours for life.
As an added bonus, being issued a ROC-A also entitles you to be placed on our Free Flight registry so that you can try operating the radio in a live cockpit.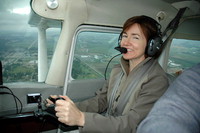 A Free Flight? Tell me more.
We operate a 'registry' that matches Air Time Canada grads with pilots and organizations that can offer the free flight. These ROC-A flights are typically around 15 minutes and are paid for entirely by the volunteer pilots and non-profit organizations that run them.
The free flights are optional, of course, and are conducted on a first-come, first-served basis from the registry. We cannot guarantee how quickly your name will come up - especially considering how often Vancouver weather results in rescheduling. But if you're patient, and willing to be flexible with your schedule, you will get your chance at the controls.
Is it safe?
Aviation Safety is what Air Time Canada is about, and we take it very seriously. We make sure our volunteer pilots are well trained and regularly reviewed. All aircraft are certified and maintained to the highest standards. And flights are operated with full support from Transport Canada Air Traffic Services.
However, if you split a gut from laughing too hard during the class .. well, you take your chances.
Tell me more about the class.
It's a 4-hour course - held either in a single sitting (with breaks) or as two 2-hour sessions.
The written examination is administered during the last hour. A passing mark (70%) is achieved by over 99% of our graduates.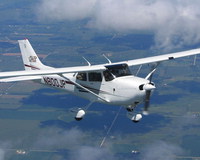 What kind of aircraft do we fly?
It depends on which organization or pilot offers you your free flight. Most operate the ubiquitous Cessna 172 (also known as a Skyhawk).
It is a 4-place high-wing piston-powered aircraft with one of the best safety records of any civil aviation aircraft in the world.
It cruises at almost 200 KPH, at altitudes up to 4000 meters, and has a range (with reserves) of over 800 KM.
How much does it cost?
The Radio License Course is
$39 / person
.
That includes the classroom instruction, handouts, the Industry Canada Exam, and all other fees and taxes.
How do I sign up?
Check out the online course calendar, pick a class, and
register on-line
.
I still have questions.
Contact Janine by email:
jcross@airfun.org